Guest Post: When The Arts Proved Enough by Tobi Adebowale
The concert tagged #ThisArtIsEnough turned out to be a gazillion worth of fun poured into four hours of a free show, it almost didn't make sense to the capitalist bent of my mind. Right from the spectacle of a 13-year-old TJ Sax with a masterful rendition that reflects nothing his age, I knew we were in for a thrilling time. It was akin to starting a toddler's birthday with a drumroll by the police band.
I always wanted to go play the 'Who Wants to be a Millionaire' game show but never did and while Sylva Nze Ifedigbo read a story from his book, 'The Funeral Did Not End', I bit my nails in nostalgia, travelling with him through the edgy journey of a player who walked away just at the right time. Like Sylva's character on the hot seat, revered writer Toni Kan took his chance at sharing his fantasy in verses that dripped of erotic truths as he kissed Joy Isi Bewaji in his dream. Toni similarly alluded to the recent fictive award granted Ben Okri for a sex scene awkwardly portrayed and just like the rockets flying off in Okri's book, many gasps shot into the air, landing on Joy seated a few meters away.
By the time Bura-Bari Nwilo began reading a chapter from his book, 'Diary of a Stupid Boyfriend', it was clear the theme of sex was going to be a recurring phenomenon on the day but Nwilo's smiles sneaking away through his teeth as he made it both an amusing read and a mock philosophy lecture. When he announced "Men who are married should be priests", laughter met with grunts and scowls jumping round the room.
Ifeh Agbonmire and Yvonne Anuoruo enacted love skits written by Joy Isi Bewaji and one could not but laugh at the conversations between a sexually dissatisfied wife and a frustrated husband. They seemed overlaid at a point but there were poignant notes to take away even amidst the humour. The biggest merchants of laughter would however be the Crown Troupe of Africa with the impressive adaptation of Joy Isi Bewaji's first book, Eko Dialogue, depicting the often overlooked and unbalanced relationship between Nigeria's Pentecostal overlords and followers, to rapturous laughter in the hall.


There was also the pronouncement of 'You are my flagellation' at a 'Table for Two' in an atmosphere of 'Konji Blues'. I just tried a word play on Dami Ajayi's poetry titles but I certainly can do no justice with words to his time on that stage at Terra Kulture. Visible emotions crawled on his body and grew their own arms that embraced us as we listened to readings from his new poetry collection, Clinical Blues. Performance poet, Efe Paul Azino was no less enthralling and for a moment, I wished I could capture the many gaping mouths while he performed his long poem 'History Is'. He owned the stage and surely went home with many hearts that night, or maybe the hearts went away fully dosed with his flowery words of history in the juice of poetry.
It was my first encounter with Afro-neo-soul singer Aduke and I had to go beg to shake her hands after her performance. A sensuous voice and deft fingers strumming the guitar made for a sweet union that wore the similitude of a marriage proposal on a sad song about racism and then turned things up 100 notches higher with the song 'Made in Lagos', the crowd singing along assuring me I just arrived from planet Mars.


Rich-man that he is, Tade Ipadeola, the 2013 NLNG Literature prize winner did not only read two beautiful poems from his book, Sahara Testaments, but also left a poem in a bottle for Joy to be auctioned in many years to come.
There were many more wonderful performances. The Madhouse dance crew did a powerful one that got my mind analysing the many things unsaid all through the dance, it seemed a divine message from the world beyond. The performances more than made for the little moments of power glitches and believe me when I say that I now have a legitimate reason to edit my resume because I got a chance to also read a poem on the night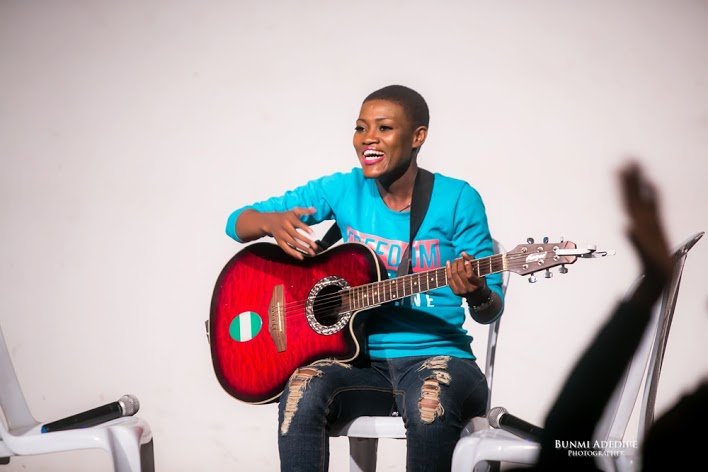 _____________
Tobi Adebowale is a poet, writer, political analyst and thorough good guy!
https://damiajayi.com/wp-content/uploads/2017/03/Dami-Ajayi-Logo-WT.png
0
0
Dami Ajayi
https://damiajayi.com/wp-content/uploads/2017/03/Dami-Ajayi-Logo-WT.png
Dami Ajayi
2014-12-11 06:06:25
2014-12-11 06:06:25
Guest Post: When The Arts Proved Enough by Tobi Adebowale