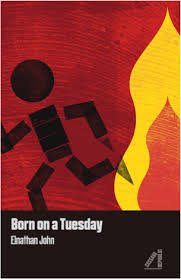 Guest Review: On Elnathan John's Born On A Tuesday by Israel Okwuje
Told in spare, limpid prose, Elnathan John's debut novel is a coming-of-age story of Dantala, an almajiri, whose name translates to the title of the novel. Dantala leaves his hometown, Dogo Icce, to become an almajiri under the tutelage of Mallam Junaidu in Bayan Layi. Over there, he meets the formidable Banda, who is feared in the area and who Dantala, in a way, aspires to be like. But their friendship doesn't last long as Banda dies during a post-election crisis – in which they are embroiled – which causes Dantala to flee to Sokoto, for the fear of also being killed.
At Sokoto, he is taken in at a mosque run by Sheikh, who becomes a mentor and father figure to him, and the rabid Mallam Abdul-Nur, a Yoruba convert who eventually starts a fundamentalist movement. It is at the mosque in Sokoto Dantala gets a deeper understanding of his religion, through the guidance of Sheikh, and he meets Jibril, Mallam Abdul-Nur's younger brother, who winds up becoming like a brother to Dantala himself.
One could say Elnathan John has written an important novel, considering the gross misunderstanding of the north by people not from there, and of course the times we live in, marred by religious fundamentalism, underage voting and electoral violence. Some of the tensions unknown to people from the south, especially non-Muslims, the differences between Sunni and Shia Islam for example, are brilliantly explored.
In Bayan Layi, we see a pubescent Dantala undergoing a voter registration:
"I hate it when people ask me my age because I don't know. I just tell them I have fasted nearly ten times. Some people understand when I say so, but others still ask annoying questions, like the woman during the census last year. But since the recent voter registration I have been saying I am nineteen, even though I have to fold the sleeves of the old caftan Banda gave me."
Nigeria this year had its election which ushered President Buhari into office. While the win was unequivocal, there were rumours of underage voting in the north and it was really interesting to see it depicted in this novel. Nonetheless, in spite of the violence and misdemeanours, Elnathan John succeeds in portraying a sensitive side of Dantala which humanizes him in no small measure. After his escape to Sokoto, Dantala returns to Dogo Icce where he learns that a flood has destroyed his mother's home, and he has lost his twin younger sisters who he never met because he was away from home. Dantala's love for his family, specifically his mother, is palpable. Also the reasons for some of the choices his makes (both good and bad) and his love of learning.
The novel is interspersed with diary entries: attempts by Dantala to perfect the English language, with the help of Jibril. These entries, written in Dantala's hand, are at once hilarious but also helpful in moving the reader closer to the heart of the protagonist.
Lovers of dense, flowery prose might not like this book because of its largely unadorned style, which really allows for a fast-paced, easy read. The beginning chapter, Bayan Layi, originally a short story which earned the author a place on the 2013 Caine prize shortlist does a wonderful job at setting a rhythm for the entire novel. But the last quarter of the book has an edge to it that defies the almost textbook style of the first half of the book. One gets the sense that the author got better as the writing progressed and this, I suppose, is commendable.
https://damiajayi.com/wp-content/uploads/2015/12/bornonatuesday.jpg
279
181
Dami Ajayi
https://damiajayi.com/wp-content/uploads/2017/03/Dami-Ajayi-Logo-WT.png
Dami Ajayi
2015-12-02 06:48:56
2015-12-02 06:48:56
Guest Review: On Elnathan John's Born On A Tuesday by Israel Okwuje