New Fiction: Breaking Point by Dami Ajayi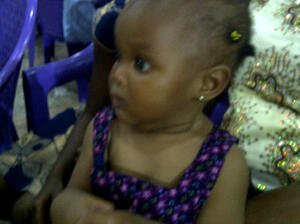 The weather man had promised a cool weather, the humid kind that preceded rains, but it seemed he lied. A fiery sun scorched us. Our clothes were soon soaked in sweat as we stood on a queue to get paid.
The work had been completed two weeks earlier and we should have been paid but our money had a more torturous and inefficient course through red-tapes, moving languidly in files carried by arthritic limbs of messengers in the civil establishment before it finally fell on the cashier's table.
The work had been quite hectic too. Waking up in the early hours of the morning, armed with cold vaccines vials stored in the Vaccine Rush, dropping the golden liquid down throats of under-five children just as their Mobilization Officer had instructed. Perhaps for Ada, it must have been more stressful, having to carry her infant daughter as well.
Her daughter's cries, piercing and disturbing to the ears, was their insignia. The Mobilizing Officer had been reluctant to give her the job on account of the crying kid who would not be pacified.
She had refused Ada's supple breasts at six months. She got along well with the akamu fortified with crayfish and skimmed milk instead. But she didn't get along with the red dust her mother's feet raised as she went about her duty as a vaccinator, as a bread winner, as a woman whose husband could not afford to buy her a scooter. Worse still, she could not cordon the heat in their one-room apartment at night.
The weather had been fair for some time. Harmattan had returned at the beginning of February and the night was cool and humid; the wind whistled in the evenings like a piper, raising dry leaves rustling on the ground like stumbling drunks. But soon enough, Harmattan fled again like a fickle lover and left in its wake a horrid heat that mandated late night baths, sleeping in the buff, leaving doors ajar at night.
So they were on the queue, checked in line by the snob-looking guns held by fierce-looking policemen. Ada's daughter was strapped to her back. She was raising her cry voice, strident and piercing; it disturbed our peace.
Ada pacified her. She left the queue to buy water; she gave her little daughter a bath. This didn't help. Her daughter's voice soared higher and higher. She bought biscuits and a milk drink. She sang a lullaby. Nothing helped.
She returned to the queue to find that the person behind her had been paid; she joined the queue afresh. Soon, her daughter began to get on other people's nerves. They begged Ada to shut her daughter up.
Give her breast now, an elderly man snapped. Beg your child, a young lady said. Ada hated that her child made her look like an inept mother. She unstrapped her from her back and held the baby whose brown hair had been locked in a semblance of braids; her mouth was wide open, saliva drooling.
She gestured at her daughter and blew her kisses and grinned and threw her up and caught thrice. Her daughter only cried further.
In an indivisible second, something snapped in her, something that absolved her of all the love she had for the child. She threw her baby up, and let gravity do the rest.
https://damiajayi.com/wp-content/uploads/2017/03/Dami-Ajayi-Logo-WT.png
0
0
Dami Ajayi
https://damiajayi.com/wp-content/uploads/2017/03/Dami-Ajayi-Logo-WT.png
Dami Ajayi
2013-09-25 08:41:37
2013-09-25 08:41:37
New Fiction: Breaking Point by Dami Ajayi