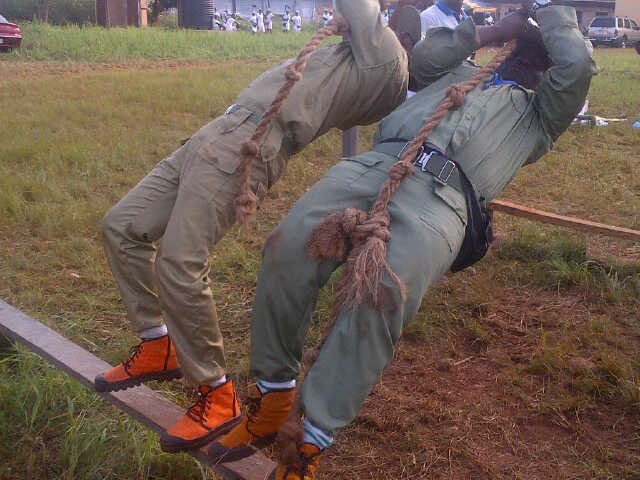 :
A is for Alomo Bitters
Umunya camp opened her gates to prospective Batch C corp members in the first week of November 2012. After the tedious registration or in some rare cases before, every corp member finds his/her way into the famed Mammy market.
Nothing compares to the variety of alcoholic beverages that was been sold at Mammy, especially after a hot afternoon in the sun hankering.
Alomo Bitters which originated from Ghana was also available until something happened.
It was the night of our swearing-in ceremony. Calypso hosted a welcome party for us. After lights out that night, a corp member was found sleeping peacefully under a truck.
All efforts to remove or rouse him were rebuffed.
"Corper, what are you doing there? Go to your room immediately!" a soldier shouted.
He responded in a sleep-soused voice, "Can't you see that I am in my hostel?"
He was forcefully removed and brought to the clinic. The next day, he was conscious to tell his tale—that of solitary drinking. His punishment was public humiliation: he was asked to jog round the parade ground, reiterating to himself over the public address system that he was a drunkard.
Then, the NYSC officials banned the sales of Alomo.
B is for Bugle
The Bugle is a valveless horn which reminded us of how regimented our life was. Every major event was occasioned by this seemingly sonorous sound: when the National Flag was hung and when it was brought down, when we eat, when we sleep, when we wake.
There is nothing as dramatic Nigeria waking. It was usually during the daily meditation. At about six a.m, the bugle sounds and everyone stands still. The bugle cuts the air and an absolute silence descends. Walking and side talks become illicit, often frowned upon by both NYSC officials and soldiers. It seemed patriotism was a thespian endeavor.
C is for Camp clinic
The camp clinic averaged nothing less than two hundred cases daily. The complaints were very similar. The sudden change of environment and the attendant dust caused catarrh, sore throat and dry cough. Asthmatics were becoming breathless from the strain of physical activities.
Ladies with menstrual cramps reported for Feldene. Those who had brought malaria from home came for drugs. And there were corp members who wanted drugs without prescriptions. Drugs on popular demand were Paracetamol, Ampliclox, Tetracycline, and worm expellants.
As time went, patients took to sitting outside the camp clinic when the bugle sound for morning devotion went out. Most of these patients were malingerers who would say or feign anything to be admitted into the wards.
For lack of proper accommodation for Corp doctors, most of us took to sleeping in the clinic for the occasional emergencies, usually that of inebriated corp members found in ungainly places like under a vehicle.
The quality of care given could pass for secondary health service. We gave IV drugs and fluids, did incision and drainage, treated infants and nebulised asthmatics.  Give us a theatre and a scrub nurse and we would have played God with scapels.
Led ably by Dr Mary, a tooth-gaped lady of fine stature, the camp clinic was run with vigor and good conscience. In addition to providing healthcare, we also did brief Health talks during the morning devotions.
Dr Mary was ably assisted by Dr Henry. With his characteristic monk hairstyle and cultured beard, He was very reminiscient of the Ikemba of Nnewi. Dr Amos, a stocky man, was popular with the ladies. He was the Admitting Officer at the Emergency unit and he was known for his empathetic slant of care bordering on the precipice of seduction.
D is for Devotion
The bugle that goes at 5 am hardly wakes anyone up. Most people had taken their baths. I usually wake up at about 4 a.m and head out from the clinic to my hostel. I would encounter naked corp member bathing their bodies outside their hostels. I learnt the discipline of not licking their bodies with my torchlight.
My bunkmate, Dipo, a friend from school days, helped to fetch my bath water. I would rouse my sleeping roommates with my thundering voice singing all sorts of music from Highlife to Hip-pop songs.
A quick peer down the latrine reminded me of Oliver Goldsmith's play, She Stoops to Conquer. The ingenuity of a latrine that can be used sanitarily with just a bowl of water is one of the wonders of Umunya. Bath was with water mixed with antiseptic solution. The bathroom floor was a tributary of dirt and disease and grime. I usually made a conscious effort of not dropping my antiseptic soap.
So when the Bugle comes on, I am clad in white shorts and socks and stockings and shoes. The Khaki cap goes gingerly to the head and the waist bag—a repository of all important things—is put in place.
We sing praises and empathetically chant the second stanza of the National anthem as a prayer. Then there is the daily meditation read alternately by different platoons, Health talk, and the dramatic pause when Nigeria wakes. Then the long litany of announcement that precedes the morning drills.
E is for Ede
The traditional Igbo cuisine was not made for the Yoruba tongue. It is looks very inviting and even excites the olfactory, but when the taste buds meet this article of desire, expectation often crashes.
Don't misunderstand me. The Yoruba diet soaked in salt and oil and pepper suits me. I made this conclusion after experimenting with the pepper-less Calabar vegetables, after eating salt-less rice and jaundiced Egusi soups.
Then some rumor came about where one could get Amala.
Amala!!! In this camp so far away from home.
I had to try it out. There was also the perfect breakfast of yam and egg sauce. And there were things peculiar about this shed at Mammy Market. Its proprietor was a hard-working Muslim Yoruba man from Ede in Osun state and the place was frequented by Yorubas who came for Efo-riro, Pounded yam and other Yoruba delicacies.
F is for Femi
One day, I think three days into camp. It was evening and the sun had set. The air was humid and there was a flurry of winds and that dense dampness that foretold rain. The skies soon grew dark and a drizzle began.
I was beer-thirsty that evening. While people rushed out of the Mammy market to the comfort of their over-crowded rooms and wafer-thin mattresses, I was headed  for Mammy Market. The rain had begun in full swing and it was a reckless one, thrashing about. The wind upturned plastic chairs and tables at the Mammy Market. The canopies were not exempted. The rain collected in leaking pockets that seeped into people's drinks. Every so often, the wind will fleet under the canopy carrying water droplets with it.
I looked for a sturdy and secure canopy and planted myself under it. Then I ordered a bottle of Harp. Soon enough, a stout black man sauntered in my direction and asked if he could sit with me. By all means, I said.
He ordered a bottle of beer. He was a fellow Corp member who had just begun his registration. He had flown in from Lagos to Enugu that afternoon. A bus had brought him down to Umunya, an hour and half journey. He was not going to stay; he had his redeployment request in his pocket.
He paid for my drinks when a female soldier harassed us out of our seats. We had not finished our beers. We would spend a good time together in camp as friends, after having met a third fellow, Tayo, a Great Ife Alumnus.
H is for Hero
I often thought mammy market was a kind of heaven. Envision sprawls of sheds and stalls selling everything possible. Booze, food, clothes, laundry services, name it. There is hardly anything that cannot come out of Mammy.
We were not aware that the great Anambra state brewed a brand of beer but we found out soon enough when its enterprising distributor came to take over one of the Mammy stalls that had been found wanting by the NYSC officials. Rumours were that they sold illicit drinks—the champagnes, whisky and other whatnots.
This entrepreneur meant business, make no mistakes. Stacks of crates were brought and the biggest Ice Box I have ever seen. He retained the services of a DJ with massive speakers; his music swallowed the other sounds. He made Shawarma and fried chicken available.
It was the sound of the music that lured my friends and I. We were their first customers and perhaps their most faithful. We guzzled the new beer called Hero. Like all beer, it looks like piss but has a light taste that inebriates slowly. It was sold at the flat rate of 200 naira, quite exorbitant for the beer was 150 in retail. We paid nonetheless.
I is for Indomie
I had never seen people eat that much Indomie! Some ladies could eat Indomie thrice a day. The Indomie was served with omelette spread over it.
Indomie was my platoon's sponsor for the carnival. They came to cook plain Indomie without meat or any accompanying greens or red, a disappointment, which was in spite of all the money they had made from Umunya.
J is for Jungle boots
Everyone is issued NYSC kit comprising of two white shirts and shorts, a pair of tennis shoes, khaki shirt and trousers, the ceremonial white crested vest, belt, and jungle boots.
We were expected to dress in white shorts and shirts and tennis shoes for physical activities . Inadvertently, Umunya dust flirted with our shoes and before noon, these shoes take the colour of earth. It costs a hundred naira at Mammy market to return them to their pristine state.
Soon, wise Corp Members began to wear their jungle boots instead. The rationale being that these shoes were already the colour of earth, more rigid and made for the rigours of the feet of a corp member in orientation camp. The only disadvantage is that some people did not get their right sizes. And these shoes could really be a chore to carry around.
K is for Kome
I met Kome the same day I ate a tantalizing half-cooked chicken lap. After relishing the golden brown skin, I found, to my utmost dismay, that there was still some blood in the chicken. I made my complaint known with the raise of my voice.
Kome, confronting a bottle of stout, also raised his. He demanded that I should not pay for the chicken. We bonded instantly, and not because I was sipping his brand.
Later in the camp, I will learn a lot about and from this Ghanaian graduate. His unrelenting passion for his Ghanaian love interest and Guinness Stout. His complexities of being both a Baptist and a Rastafarian without the dreadlocks. I also met Shada, his fair friend with a racket pendant on his gold chain.
L is for Lights out
I hated light outs but I hated the haranguing soldiers more. They would go around chasing people with planks in the Mammy Market; one female soldier even upset my drink with the needless bang of a plank. She thought I did not take her seriously on account of her gender. I devised a method of avoiding such harassment. I would leave Mammy at about 9.30 pm before the bugle goes and the frantic soldiers kicked in.
Enforcing bedtime on adults is an ungainly thing but they say camp is regimented. Yada yada yada. And sometimes these soldiers went to hostels to order people to lie down. They were on a prowl every night looking for dissidents.
There is the rare corp member, perhaps urged on by Dutch courage to put their feet down and insist that they are adults. They usually found their way into the camp clinic. A mini mental state examination will be done for them to ascertain if they are indeed sane or acting under the influence.
M is for Mammy Market
Mammy market was a kind of heaven. Everything was sold here for exorbitant prices. Even illicit substances from Red label to Skunk to Codeine were on the black market. After the hard drillings and the prolonged standing on the parade ground, Mammy made it all worthwhile. There was always a cold beer, a delicious chicken wing.
Satisfaction was graded. For those who couldn't afford expensive beer, there was stouted Palmwine. For those who could not buy chicken wings garlanded with rims of onions and peppers, there was the reliable dog meat.
There were the charging stalls for dying phone batteries. Laundry section for earth-coloured whites. There was loud music, lots of it. Playing music reminded us of the world out there. Songs that piqued memories and set us free from the regimented tendencies of the Orientation Camp.
N is for Nineteen Thousand Eight Hundred Naira
The first allowance was a big deal. Much as our State Coordinator delayed its payment, it still found its way into Mammy, just like our Transport allowances and the Bicycle allowances.
NCCF competed with Mammy Market for this allowance also. People were urged to give their first seed to God. Some called it divine insurance.
O is for Otondo
Popularly ridiculed were corp members who could not sustain the demands of rigorous exercises. The Man O'War often referred to them as Otondos. It simply meant Lazy Corper.
But not everyone was made for the rigours of such physical strain and there was also the hot sun to contend with.
P is for PPA
My misery began on the last night of camp. It was a starless sky, the bungle had gone off at its usual time, and the soldiers were strict about the light outs in spite of the camaraderie that had been formed with Corp members
I stared at the ceiling and imagined receiving my posting letter the next day. For the first time since my three weeks in Camp, I actually considered the thought of being flung far . The worst options were said to be Anambra West and Ayemelum Local Government Areas. Whilst, Anambra West was said to have been ravaged by last year's flood, the literal meaning of Ayemelum was derived from the devastating effect of the Biafra war. Worst still, the name Ayemelum when anglicized was terrifying. I am Alone.
My drinking buddies were elated already; their redeployment had "clicked". They were on their way to being issued their redeployment letters to Oyo and Ondo states respectively; my fate was hanging from an invisible pull string.
About 12 hours passed before the letter fell into my hands. Orumba North Local Government, Ajalli. Everybody whom I asked about the distance fluttered their eyes before saying where it exactly was. It was like the description was far flung even in their geographical memories.
The Mammy Wagon conveying us kept winding up and down, its loud engine drowning my thoughts. I Googled my PPA. Three relevant information appeared. Orumba North people are supposedly educated. Alex Ekueme, former vice president, is from Oko. Oko has a Federal Polytechnic. My mind eased a bit. There was nothing on snake grooves or pythons co-habiting with humans. A sigh of fresh breath.
https://damiajayi.com/wp-content/uploads/2017/03/Dami-Ajayi-Logo-WT.png
0
0
Dami Ajayi
https://damiajayi.com/wp-content/uploads/2017/03/Dami-Ajayi-Logo-WT.png
Dami Ajayi
2013-09-13 05:46:10
2013-09-13 05:46:10
Remembering Umunya