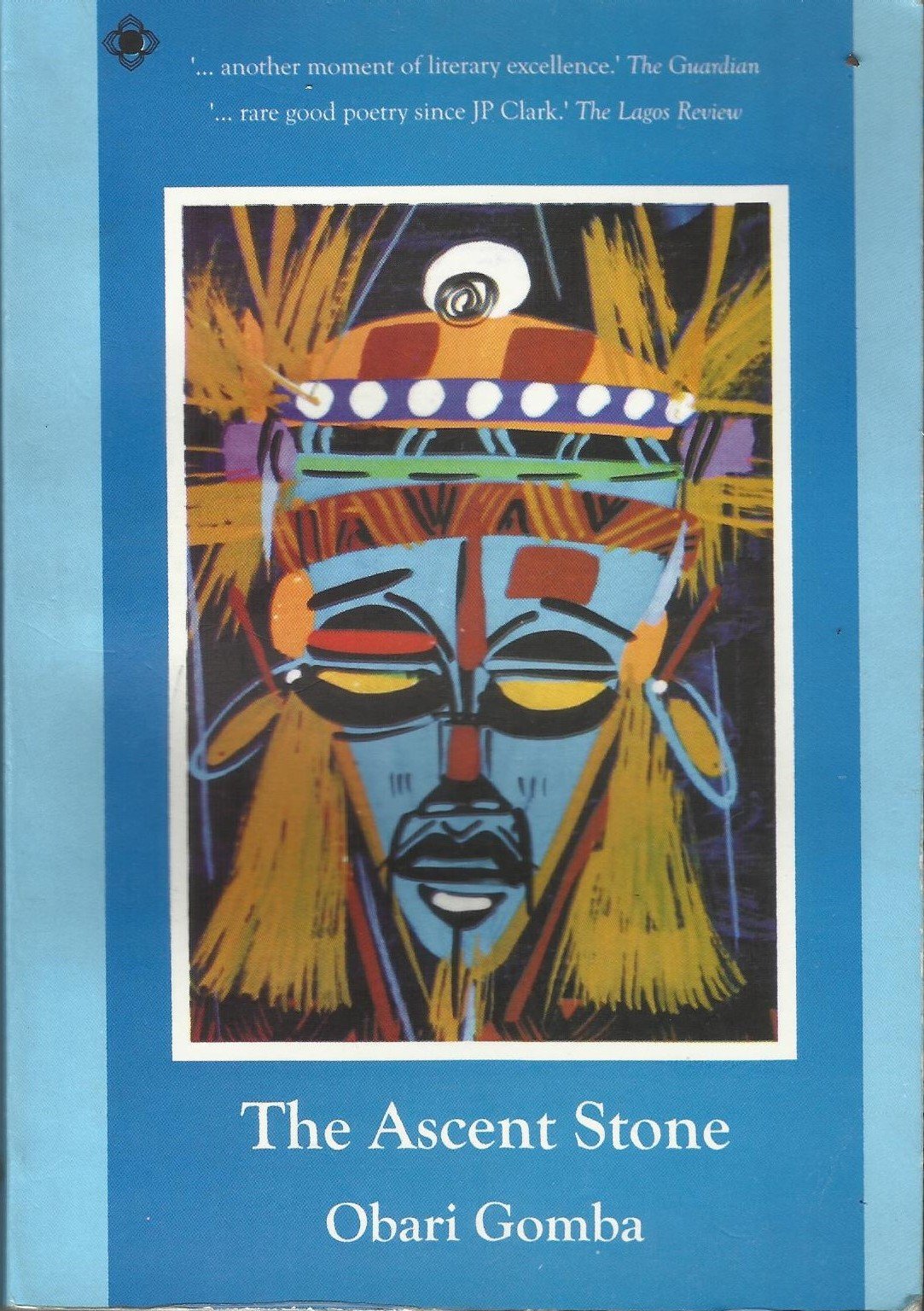 The Ascent Stone is a marriage of two volumes of poems—Length of Eyes and Pearl of Mangroves—both by Obari Gomba, a poet with an obsessive fascination with human anatomy, couplets and the Niger Delta.
 These twin collections are like two sides of a coin. They frolic with different concerns, are mediated by different styles, form, manner and method. They, in short, exist on different ends of a spectrum and do not share a lasting mood: while the voice in Length is more textured, matured and modulated; the voice of Pearl is rash, brazen and tempestuous. There is however hardly a marked dissimilarity in the issues engendered in both collections but Length wears on its sleeves a grace brought along by years of practicing craft.
 Pearls of Mangroves is a disturbing collection borne out of perilous anguish. It is a book of lamentations, of frustrations, of anger. The book speaks to, for and about the Niger Delta situation. The Niger Delta has been described as a gift as well as a curse. It is a gift in that it sustains the Nigerian State and a curse for it suffers lack, neglect, decline, pollution and poverty of her people regardless of her role in enriching the nation.
The poet's fascination with anatomy kicks out a worn metaphor—that of a woman. The Niger Delta as a woman is the crux of many realized poems in this collection. With the lucid image of a woman as a grand metaphor, one cannot run out of ways of violating the Niger Delta. Nakedness is recurring. So also is rape, pussy, menses, pain, suffering, ashes, tears,  wounds, corpses, butchery and debauchery of dreams, helpless children, violence all drowning in endless murky waters with a thin skin of crude oil atop as veil.
 "Old dragons roar as they ravage the river
 New tears fall where old ones never run dry"
The names of oil towns, tribes, districts are deployed at will. Ogoni. Odi. Oloi-biri. Umuechem. Not for the need to activate sentiments but to lament the decline and decay of land. The Niger Delta is expendable fodder for world development and sustenance.
"The world dances on our skulls
 Foul is fair in the politics of Oil"
"But faraway in London and Washington
 Their oil lubricates power and sex"
 There is a strong presence of the slain environmentalist, Ken Saro-Wiwa, who was martyred for the Niger Delta cause by Ray-Ban wearing despot, Abacha. There seems to be an unbiased fondness when the poet says of him,
"You are not a saint;
  You are not a villain.
  You are just a true tragedian.
  Love is your hamartia."
In the strength of the poet's despair and lament, there seems to be incarnation of what Wiwa stood for, perhaps this is why Ken Saro-Wiwa's influence, story, essence lingers all over the collection. Recollection is not only an antidote for amnesia; the poet says this very profoundly in pg. 165,
"Memory is chlorophyll
  In the Face of the sun"
And the memories of Niger Delta in this volume are not lofty; they are toxic, torn, tragic. And once remembrance is achieved, resistance creeps in. Resistance is protest put to purpose in the Journal of a Militant, an epic poem, which might have been better realized in prose.
Militancy is inevitable in the natural history of the Niger Delta situation. Mindless rape, wreckage, toxic havoc cannot persist without some sort of confrontation and resistance. The poet has chosen poetry to confront these disturbing issues and is often besotted by the rage and the anguish of his memories. His memories are flooded by negative images of the Niger Delta and this might stand to reason as the poet is a native of the Niger Delta born long after the oil exploration had begun. Perhaps this is why there are no fond memories except that of the poet's father and sea shells, the eponymous Pearls of the Mangrove.
I would have loved to read more fond memories of the Niger Delta music, cuisines, norms; their lives before it was tainted by oil but fond memories are not what this book is made of. Like all poets of the Niger Delta extraction, Obari Gomba in Pearls is fixated on the helpless fate of the land.
Length of Eyes, for obvious reasons, makes for a better reading. It is less disturbing, more methodical and flaunts a confidence that does not betray emotions, unlike Pearls. Divided into three sections, each section grapples with a range of clustered themes.
The first are paeans on a bevy of the poet's favourite thinkers amongst which are novelists, thinkers, lawyers, philosophers and environmentalists tied together by professional success and strength of character.
An elegy is written in the memory of Bola Ige, slain attorney-general of Nigeria, whose killers have remained at large. It is an inquest on the rationale of some of the late statesman's allegiances which may or may not have hastened his death from unnatural causes.  A powerful metaphor that borrows from seed germination is recruited in the poem Die, Maathai Wangari. Death becomes a first step towards germination, a phoenix-like resurrection that makes for beautiful imagery. The great environmentalist is prodded to die so that she can grow into a plant. This is the enduring tendency of Length: a boyish playfulness that abides even when dealing with serious themes, and, of course, a consummate love for human anatomy. Many times reportage and history flirts with the poems but the poems only become realized when they deal  in the delight of human anatomy.
"On the tongue. O not from
  Those famous errant breasts of yours"
"In full tide. A new horn
Is keen at the cervix"
"…Huge penises
  Turgid with lust"
The second section deals with the poet and his internal crises which stems from the practice of his craft; his bogus attempts at creation, his victories, if you may, when he succeeds and his anguish, when he fails.
Arguably, the poet is a god. Little wonder, religious allusions and imagery abound in this section, but in the core of his poetics is a jaunty sense of word play. 
In the last two sections, the poet glories and glows in politics and history. Terrorism, Islamic fundamentalism, Military rule, Arab springs and the dominance of America is grappled with, with wit.
 The poet pays meticulous care to form, expressing himself in free verse, deploying staggering enjambment but the discovery of the potency of couplets remains the most important of his victories.
 Length might be an unconscious response to Pearls' reception. Even though gloomy issues are delved into, the voice in Length comes across as tempered and well-mannered when compared to the raw anger in Pearls.
 Time modulates many things, a poet's voice inclusive.
https://damiajayi.com/wp-content/uploads/2017/03/Dami-Ajayi-Logo-WT.png
0
0
Dami Ajayi
https://damiajayi.com/wp-content/uploads/2017/03/Dami-Ajayi-Logo-WT.png
Dami Ajayi
2014-02-12 16:48:07
2014-02-12 16:48:07
Violence and Victories: On Obari Gomba's The Ascent Stone