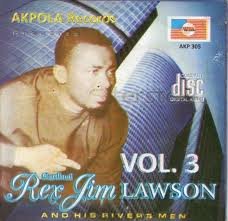 Think James Moody or The Temptations or even Frank Sinatra. Legends with towering names and achievements, yes? Yes, now think Cardinal Rex Lawson, the General Overseer of Nigerian Highlife.
 Although he met his untimely death in car crash, younger than say Albert Camus, he was known to have said that he would die as a musician. Indeed, he died en route a concert at Warri. But even death at a young age, an eerie trend amongst Highlife musicians (see Israel Nwoba, Crosdale Juba, Celestine Ukwu), did not truncate his genius. He was a prolific musician with a substantial body of work in record pressings and his soul-rendering performances were deemed unforgettable.
 I have chosen to write about three songs by the late Highlife maestro, a mish-mash of varying quality, language and ethos. A Kalabari man born by an Igbo mother, he was known to sing in many languages of the West Africa including Efik, Igbo, Kalabari and Twi. Add to this the English language and the more accessible creole, English pidgin. A former band member with Bobby Benson, Rex Lawson, in singing in various indigenous languages, was operating in the zeitgeist of his era.
 Nigerian short story writer, Igoni Barrett says this about So Ala Temen, "I learned how to laugh and cry at the same time. And this without even understanding what the words of the song meant."
His words are rather apt. There is something transcendental about music that even when you don't have an insight as to the lyrical content, the mood, pulse, energy trapped within the organized sound reveals itself to you. Little wonder, Rex Lawson was notorious for being overly emotional to the brink of tears when he performs So Ala Temen.
 "Hannah I Don Tire", done in both pidgin and Kalabari, is a different kind of song. There is something incessantly gnawing about the bass guitar that leads the tune with such reckless aplomb. The possibilities of the lyrical content are also of interest: a sated man implores his virtuous kept woman to let him go home. Highlife has that mimetic quality. Adultery is a recurring theme that continues to intrigue humanity.Women always reveal themselves in Highlife tunes.
 "Angelina Pay My Money" has always cut the picture of a colonial Lagos for me. Jaunty rhythms with a teasing percussion, Rex Lawson assume the role of a petty trader hoping to redeem his credit facility from Angelina, unarguably a debtor and arguably a prostitute.
https://damiajayi.com/wp-content/uploads/2017/03/Dami-Ajayi-Logo-WT.png
0
0
Dami Ajayi
https://damiajayi.com/wp-content/uploads/2017/03/Dami-Ajayi-Logo-WT.png
Dami Ajayi
2014-01-29 13:00:58
2014-01-29 13:00:58
Three Songs: Rex Lawson