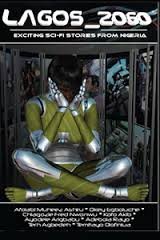 In 2010, eight writers gathered in a workshop to create futuristic stories, scenario and events about Lagos. They decided to leap fifty years forward. Lagos_2060 is the product of their imaginations. Three years passed before this exciting compendium of imaginations became tangible and time has begun to clock against the virtuosity of the lofty fantasies therein.
Fifty years is not a long time. With a brilliant imagination, unperturbed by thoughts racing after western civilization, one's speculation should, at worst, be realistic. However, the mould in which these writers situate their imagination is of importance—science fiction. They chose to set their thoughts in the whirlpool of technological advancement and sophistication. Lagos 2060 is like being awoken in a futuristic dream to partake in a series of television adaptation of Asimov's I, Robot.
This Lagos is different in terms of political restiveness: it is desperately trying to secede from the mother country. This Lagos has her police and other specially trained security forces. This Lagos has robots that drive air bugs. This Lagos harbors psychedelic drug junkies, indeed there are herbal substances that can initiate time travelling. This Lagos bit into the Atlantic Ocean to build the Eko Atlantic City. Lagosians have married Japanese, Lebanese and Indians. In fact, in this Lagos, you can purchase an energy drink called Blood of Jesus.
This Lagos is not without crises, and interestingly, these crises do not arise from gremlins or technological glitches or even robotic anarchy, it stems from human nature. It stems from good old avarice, from good old adultery, from familial angst, from ambition, from love. It is a shame that in spite of technological advancement, humans have been unable to evolve beyond their hideous character, their pettiness, their sufferings, their mortido, their angst, their human-ness. And this is realistic; this is the realism which the writers who participated in this noble effort did not grapple with at the instance and even through the extent of their imaginative foray. That the imagination is a projection of what is real, that the imagined is the real embossed, interposed, juxtaposed, and super-imposed.
While they borrowed long spools of narratives to describe the outbreak of modern technology, they forget that technological advancement evolves to satisfy human needs. They simply assume that fifty years from now, every Lagos street will be paved with thick asphalt that stop short of every citizen's gate, that the phenomenal Lagos traffic will be non-existent, that there would be a transposition of the nouveaux riches to the Alimosho suburbs and Lagos island would have become a slum. I beg to disagree even though I agree that Lagos would change a great deal in the next fifty years. I am more interested in the factors that would change Lagos. For instance, will Lagos have found an answer to the teeming problems of overcrowding, power, infrastructure, flood and sanitation?
Although some of my anxieties were addressed in stories like Ayodele Arigbabu's Cold Fusion and Temitayo Olofinlua's Metal Feet, some other stories were uneventful. I should also comment on the uneven strength of these stories. It is a herculean task to match up people's imaginations, assimilations and dissipations when set in ink, but there must be an attempt to even out the stories in an anthology, to balance every one of them against a standard. While some stories drooled jejune reportage, others read like Western Crime Thriller imitations, but there were a handful of stories that left the vigor of technological advancement in the periphery and dealt with human needs, anxieties and relationships.
https://damiajayi.com/wp-content/uploads/2017/03/Dami-Ajayi-Logo-WT.png
0
0
Dami Ajayi
https://damiajayi.com/wp-content/uploads/2017/03/Dami-Ajayi-Logo-WT.png
Dami Ajayi
2014-01-07 18:56:53
2014-01-07 18:56:53
On LAGOS_2060 Anthology of Sci-Fi Stories