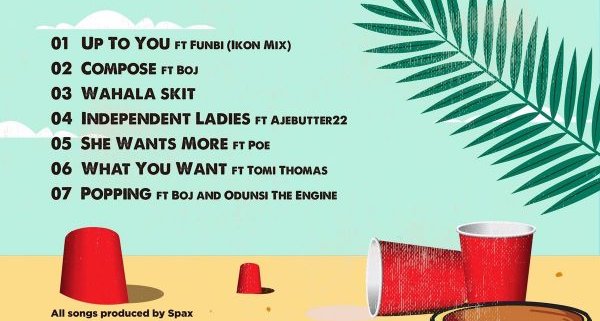 Album Review: Show Dem Camp's Palmwine Music Vol. 1
Show Dem Camp, the rappers, duo of Tec and Ghost, dropped their biggest hit till date, Feel Alright, in 2013. Produced by Ghanaian soundsmith, Juls, Feel Alright was an exceptional throwback song with sensual lyrics and prominent guitar picks. Genre-wise, it was doing something different: straddling sounds and generations, bringing the happy vibe of Palmwine Highlife sound with the insouciant and improvisational nature of hip-hop.
Fast forward to mid-2017 and it is surprising that SDC announced the release date of yet another project, Palmwine Music Vol 1. Their diehard fans haven't had enough of the VOL 3 of Clone Wars dropped on the last day of last year and yet, new music has been earmarked for the radio waves.
Palmwine Music Vol 1 is an Extended Play album of seven tracks (six songs and one skit)  produced entirely by Spax and featuring  Funbi, AjeButter 2.0, Odunsi The Engine, LadiPoe, Tomi Thomas and BOJ.  BOJ does the hook on two songs, 'Compose' and 'Popping Again', the only crooner on two songs, perhaps because his chemistry with SDC has been tested and trusted since Feel Alright.
At 23 minutes, Palmwine Music is a sonic teaser, hardly lasting long enough for you to form impression. But, then again, letting music playing undisturbed for the EP's duration means it must be some ear candy.
Palmwine Music is not entirely a new innovation. It derives a lot of its texture from palmwine highlife, a variant of highlife popular in many West African coastal towns and cities where the guitar leads the music. This kind of music is remarkable for its low to mid-tempo, positive vibes and soothing pleasure. Even Fela, a lover of brass, indulged in some Palmwine Highlife, recorded at about the peak of his career.
SDC's Palmwine Music borrows from this Palmwine Highlife tendency. It presents itself as a coastal city easy-listening contemporary album. Imagine a sound that tries to be a sponge soaking a megacity's stress, that lures your attention to details antithetical to stress. These details should go without saying but here is a small inventory: party, booze, beach sand, horizons, coastline, beautiful and full-bodied women and, most importantly, love and lust. SDC's recipe comprises of catchy hooks, digital sonic production laced with exciting live instrumentation and delightful rap.
The Funbi assisted on 'Up 2 U' is reminiscent of Wizkid's On Top Your Matter and SDC's Feel Alright. Feel Alright still remains the prototype song for Palmwine Music, so that almost every song on this project is influenced by it.
It is noteworthy that every song features a crooner or two. The duo of Tec and Ghost are perhaps too hardcore to sing Palmwine hooks, hence the album has a more collaborative feel. BOJ delivers on 'Compose' and 'Popping Again' even if 'Compose' is magical for only it Afrobeat ambitions. On 'She Wants More', the status quo of evenly matched duo is upset when Ghost drops a quartet of complex rhymes. That this album is made for easy listening doesn't mean these rappers intended to drop the ball. A serious attitude pervades the entire album and their rhymes might be a tad too heavy for feel-good music. Or perhaps we have been spoilt by Nigerian standards.
It has been seven years plus of meaningful music from the Show Dem Camp duo. Their sound and expressions draws so much from our Lagos realities and even more, gives us our realities back as mastered copies.
There is however the trivial matter of how this sound seems suited for the bourgeois, swanky, upwardly-mobile, well-adjusted, cosmopolitan Nigerian. But, in its defense, sound is not, and cannot, be exclusive; it is free in the air.
You now rocking with SDC…and if you don't know the response to this call, you may be wrong
https://damiajayi.com/wp-content/uploads/2018/11/palmwine-music-1-e1541084441818.jpg
600
600
Dami Ajayi
https://damiajayi.com/wp-content/uploads/2017/03/Dami-Ajayi-Logo-WT.png
Dami Ajayi
2018-11-01 16:06:32
2018-11-01 16:06:32
Album Review: Show Dem Camp's Palmwine Music Vol. 1